SENSORIAL SHOWCASE

| | |
| --- | --- |
| | 11/01/2020 |
| | NEW YORK HILTON MIDTOWN HOTEL |
| | NEW YORK CITY | USA |
| | Google Map |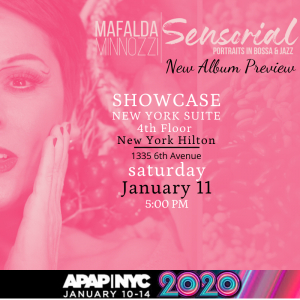 Sabato, 11 gennaio 2020 dalle 17:00 alle 17:30
SHOWCASE "SENSORIAL – Portraits in Bossa & Jazz" –
con Mafalda Minnozzi
accompagnata da Paul Ricci alle chitarre, Victor Jones alla batteria, Harvie S al basso acustico e Art Hirahara al pianoforte.
La"Allan Harris Production, Pat Harris & Associates" presso l'APAP 2020 all'Hilton Midtown di New York City presenta "2 GREAT DAYS OF JAZZ IN THE NEW YORK SUITE" dove 12 artisti selezionati, di diversa provenienza, si alterneranno sul palcoscenico presentando le loro recenti produzioni discografiche.
Mafalda Minnozzi presenterà 6 brani tratti dalla sua ultima produzione discografica: SENSORIAL – Portraits in Bossa & Jazz- con lancio previsto il 01 marzo 2020.
Indirizzo:
4o piano
Address:
1335 6th Ave, New York, NY 
Ingresso GRATUITO