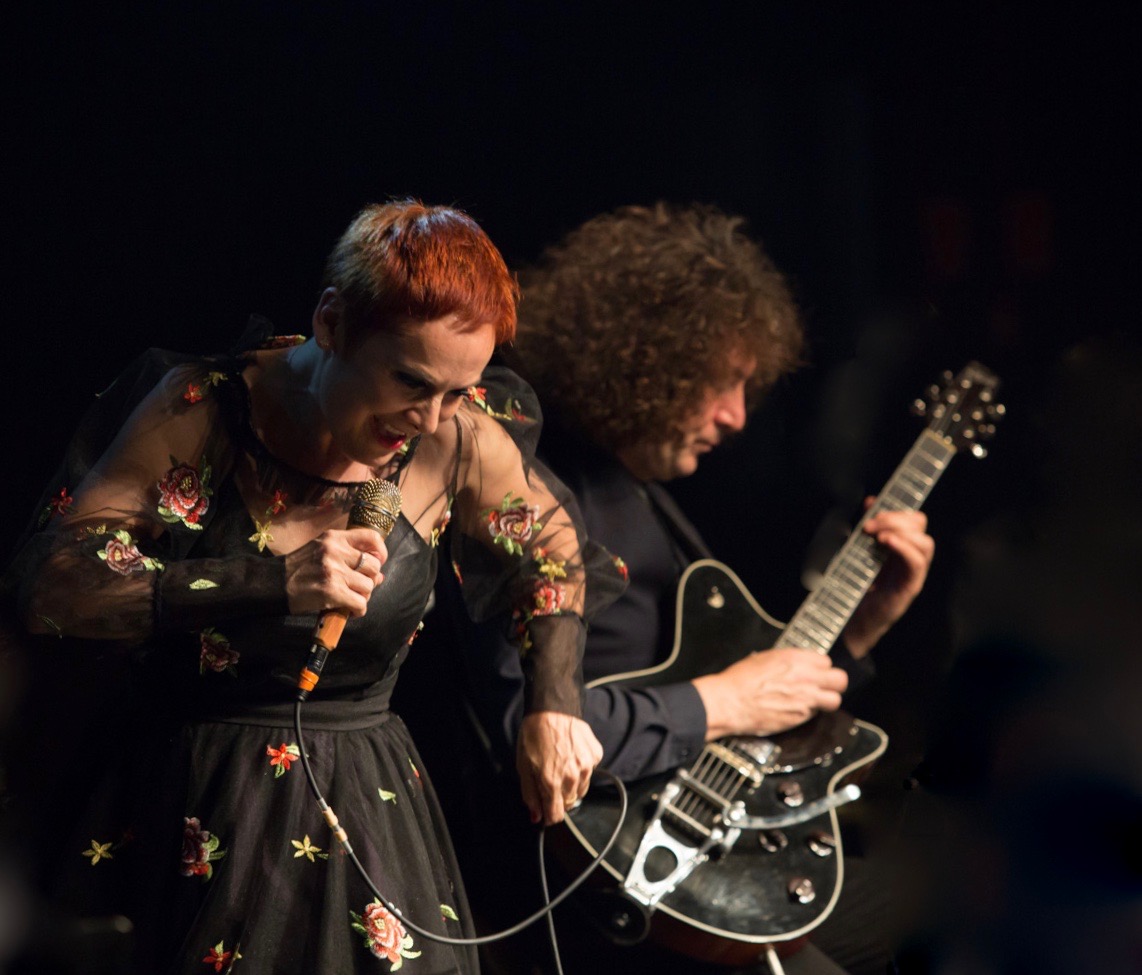 PORTRAITS IN BOSSA & JAZZ

| | |
| --- | --- |
| | 22/09/2019 |
| | HILTON GARDEN INN |
| | ARVADA (COLORADO|USA) |
| | Google Map |
ROCKY MOUNTAIN ARCHTOP FESTIVAL
Hilton Garden Inn, 5455 Olde Wadsworth Blvd, Arvada, CO 
LOUNGE HILTON
12:00 PM
show:  "PORTRAITS IN BOSSA & JAZZ TOUR 2019"
************************************************************************
On Sunday, September 22nd 2019  Mafalda Minnozzi & Paul Ricci will be joined on the stage of the "LOUNGE HILTON"  in ARVADA | COLORADO
Minnozzi and Ricci are returning to the United States after a January show with a sold-out audience at NYC's legendary Birdland followed by other sold-out performances in jazz venues such as Mezzrow's, Jazz Forum, Zinc Bar and Trumpets in New Jersey. "Portraits In Bossa & Jazz" then moved on to Europe with a calendar of concerts there as well as in South America.
In a repertoire that draws from samba, bossa nova, swing, and blues in unique interpretations of the great composers ranging from the poignant reading of "Insensatez", by Antonio Carlos Jobim, to the sly musical swing created in "Via Con Me"by Paolo Conte and a spirited version of  "Triste Sera" by Luigi Tenco. Mafalda, multi faceted interpreter of international stature, sings in her native Italian, in English ("Dindi", "My Shining Hour"), in French (in a bluesy rendition of "Nuages" by Django Reinhardt) and in Portuguese, although the true language eMPathia is the one created by the dialogue between her voice and the guitar of Paul.
Vocalist Mafalda Minnozzi's over 20 year career in Brazil has earned her the title of ambassador of Italian music as well as celebrity status there where she began working together with Ricci in 1996. Since then, many artistic collaborations between them led up to their current project. The vocalist has collaborated with Martinho da Vila, Milton Nascimento, Toquinho, Gene Bertoncini, Andre Mehmari, Art Hirahara, Helio Alves, Rogerio Boccato, Lucio Dalla, Paulo Moura and Nico Assumpção, while Ricci has played with Roy Haynes, Kenny Barron, Bebel Gilberto, Astrud Gilberto, Mino Cinelu, Randy Brecker, Sonny Fortune, Manolo Badrena and Harry Belafonte. Referring to Minnozzi, the music critic
"Mafalda Minnozzi, is an extraordinary performer. She dominates the stage with her fascinating scenic presence and her powerful and flexible voice, rich in a thousand nuances" – Gerlando Gatto (journalist, music critic and author of "L'Altra Metà del Jazz")
"Thanks to her experiences with jazz music in Brazil and Italy, both countries influence her way of singing … each interpretation is deep and sensitive. This is jazz for falling in love, the free flight of a bird in a great sky. "- Debbie Burke (blogger and jazz critic)
"She has a beautiful conception of each song and is a wonderful performer. I am fascinated by her way of improvising and interacting" – Gene Bertoncini (legendary NY jazz guitarist)
"…overflowing with interpretative choices, communicative appeal and strong artistic personality, the singer expertly handles the dynamics and projection with grace and deep emotional impact, suggesting a sort of imaginary bridge connecting Italy, the United States and Brazil…" – Stefano Dentice: Italian Jazz Critic at "ITALIAINJAZZ"
"…delivered the hottest show of the night… the Italian singer Mafalda Minnozzi and American guitarist Paul Ricci literally raised the audience with jazzy versions of classics." – Carlos Calado: Brazilian Jazz author and critic at "FOLHA de S.PAULO".