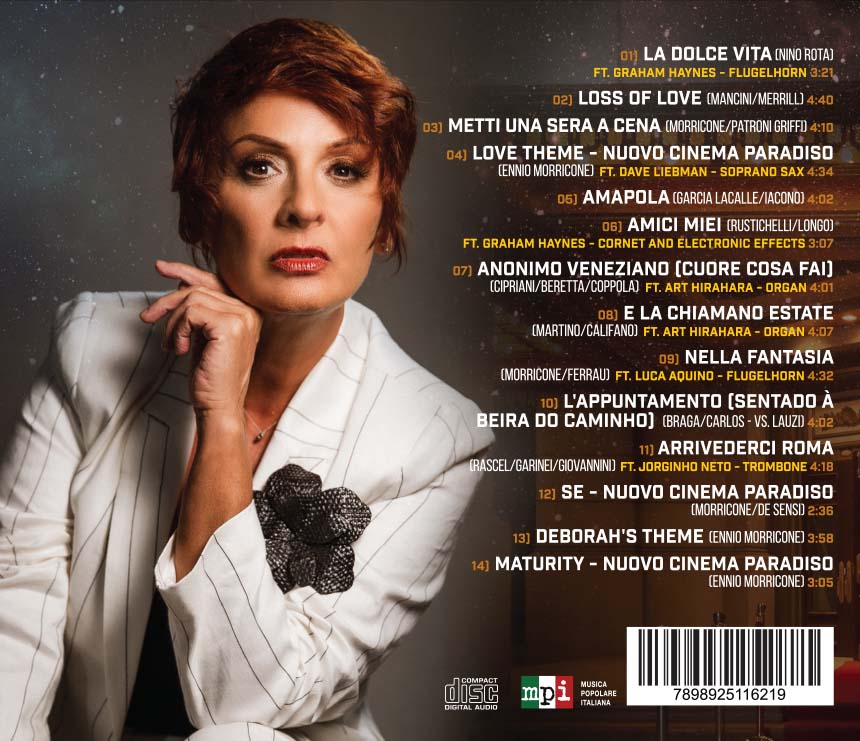 Featuring:
Mafalda Minnozzi – vocals
Tiago Costa – piano
Sidiel Vieira – acoustic bass
Ricardo Mosca – drums
Paul Ricci – guitars (musical dir.)
Special guests
Dave Liebman – soprano saxophone [4]
Graham Haynes – flugelhorn [1], cornet / electronic fx [6]
Art Hirahara – organ [7,8]
Luca Aquino – flugelhorn [9]
Jorginho Neto – trombone [11]
Produced by Paul Ricci
Recorded at Arsis Studio – Sao Paulo by Adonias Souza Jr.
Mixed by Adonias Souza Jr. and Paul Ricci
Mastered by Adonias Souza Jr.
Arranged by Mafalda Minnozzi and Paul Ricci
Photos by Murilo Alvesso
Make-up by Emely Paula
Design by Ricardo Campos – Nação Design
Publicity: Lydia Liebman Promotions
Radio Promotion: Lisa Reedy Promotions
Jazz music has long taken cues from the silver screen. On Cinema City, renowned vocalist Mafalda Minnozzi sets out to embrace a different songbook than the usual American fare – one from her native Italy with a distinctive flavor that only Morricone, Mancini, Cipriani, Nino Rota and their compatriots could offer to the jazz language. Mafalda who releases Cinema City on the heels of her critically acclaimed 2020 release Sensorial, interprets these musical gems with her virtuosic style and sensibility informed by her travels and experiences in Italy, Brazil and New York City.
Cinema City was conceived and recorded in Brazil during the COVID-19 lockdown. The forced hiatus gave Minnozzi plenty of time to reflect, and acted as a catalyst for this deeply personal and creative project. "It occurred to me that just as the character Totò, from Cinema Paradiso, revisited his life via the clips from the films he grew up with, I too sang these songs as if they were scenes from life. They reconnected me with what they meant to me from my childhood all throughout my artistic evolution," shares Minnozzi. The vast majority of the music on Cinema City accompanied the singer throughout various peaks and valleys of her life.
Each track on Cinema City imparts its own mood on the listener and the adept arrangements act as a creative springboard for brilliant improvisation. Breaking free from the more obvious classical or popular approach these songs are known for, Minnozzi takes full advantage of her dramatic interpretive power, her sublime vocal range, and cosmopolitan perspective to present her singular take on these timeless compositions.
La Dolce Vita – 3:21 (Rota)
Loss of Love – 4:40 (Mancini/Merrill)
Metti Una Sera A Cena – 4:10  (Morricone/Patroni Griffi)
Love Theme – Nuovo Cinema Paradiso – 4:34 (Morricone)
Amapola – 4:02  (Lacalle/Iacono)
Amici Miei – 3:07 (Rustichelli/Longo)
Anonimo Veneziano (Cuore Cosa Fai) – 4:01 (Cipriani/Beretta/Coppola)
E La Chiamano Estate – 4:07 (Martino/Califano)
Nella Fantasia – 4:32 (Morricone/Ferrau)
L'appuntamento (Sentado A Beira Do Caminho) – 4:02  (Braga/Carlos – vs. Lauzi)
Arrivederci Roma – 4:18 (Rascel/Garinei/Giovannini)
Se – Nuovo Cinema Paradiso – 2:36 (Morricone/De Sensi)
Deborah's Theme – 3:58 (Morricone)
Maturity – Nuovo Cinema Paradiso – 3:05 (Morricone)